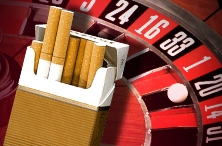 Lawmakers all over the United States try as hard as they can to minimise public smoking in order to reduce the non-smoking citizen's exposure to second hand smoke. However, it is not uncommon for these politicians to ignore of forget casinos and their workers and patrons when it comes to laws regarding smoking regulations or banning.
Smoking has come up as an issue once again in Indiana and the Senate is preparing to have a closer look into the proposed ban. But once again there are chances of a stipulation to find its way into the law that will exempt casinos and gambling places of much effect.
The reasons for politicians giving exclusive treatment to casinos has been touted as the large amount of revenue gambling activities generate. The average annual inflow from casinos to the government coffers comes in at around a billion dollars which is a very large chunk of government earnings.
A bill that imposes a ban on smoking in all public institutions and establishments is currently being discussed upon in the House Public Health Committee in Indiana. However, even if it manages to pass through and get recognized as a law it is highly likely that at some point or the other a stipulation that relaxes the law for casino establishments will be added to it. The bill virtually cannot pass through the Senate without such an addition.
The Governor of Indiana, Mitch Daniels has already declared that he will not use a veto against any such bill if it comes to him for approval and that effectively leaves the decision of exempting casinos from the law to the lawmakers of the Senate.