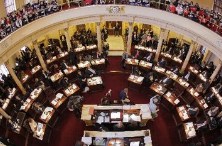 History was made on Monday as New Jersey's legislative body became the first in the United States to give its approval to licensed internet gambling that will be regulated by the state. Now all eyes are on Governor Chris Christie to sign the bill which would effectively make New Jersey the first state in the country to licence regulated online gambling.
However, if he wishes to, Christie can choose to veto the bill by not signing it in the 45 days period that he has. Although, if the Governor does veto against the bill, the legislature holds the power to overturn the veto, but the task of overturning a Governor's veto is complicated to say the least and requires at least two thirds of the assembly's votes to stand valid.
It is notable that the Republicans who had earlier voted in favour of the bill might not want to go against the veto of their Governor and in light of the Democrats less than veto proof majority in the assembly, it is likely that if used a veto will stand.
This practically puts the future of the law exclusively into Christie's hands. It is quite certain that his decision will depend on his ambitions in politics. One of the biggest rising stars of the Republicans, the prospects of Christie in national politics are bright. Rumours have it that he could even be nominated as a presidential candidate for the 2012 elections.
With such ambitions in sight, the Governor has been put in a tight spot by the situation concerning the online gambling legislation. By signing his approval he will essentially risk a huge conservative support base in the country which could prove to be disastrous for his future. However it is likely that he will veto against it and later seek cover of the ignorance in the legal system concerning online gambling.