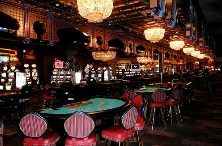 A gambling casino that opened up in the city of Damascus, the capital of Syria, has stirred controversy in the country's media with the popular belief in pious Syrian Muslims that labels gambling as sinful. Right from the time when plans for the construction of the Ocean Club casino in close vicinity of the Damascus International Airport were highlighted by the media, the casino has been a frequent centre of attention for all the wrong reasons.
Even the country's members of parliament are now beginning to voice their disapproval for the gambling venue by questioning its legality in the country and whether it has government support. A large majority of these politicians are even seeking to close it down now.
Among all this chaos the casino itself has been unmoved yet as patrons keep flooding in and keeping the business flowing steady. On the opening night itself, the club was jam packed and it allegedly took in 38 million worth of Syrian pounds. Despite the furore it is still in operation and the number of visitors is ever increasing.
All games of chance and those which involve stakes with money are considered a social taboo in the country, although a number of such venues have been operational since years without being accounted for. The casino grants entrance only to non-resident Syrians, non-Syrians and members of a trade union.
The ownership of the Ocean Club is still not clearly established. There have been several speculations in the general public some of which hold that the building is government owned. However, the employees of the casino maintain that Khaled Houboubati, the person who currently runs the casino, built it himself and is the owner of the club.