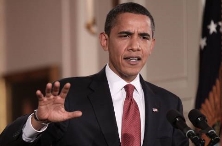 All regular television telecasts stopped on Wednesday night to air President Barack Obama's speech from Arizona in the aftermath of the horrid shooting incident. However all the attention seeking were in vain for the gambling population of the country as they remained engrossed in slot machines and table games in the casinos throughout the United States. Thousands of such gamblers are said to have missed the key speech which otherwise grabbed the attention of people throughout the world.
In the speech, Obama called upon all fellow politicians to join hands and equivocally honour the six citizens who died in the shooting incident. The address was attended by an over 15,000 strong crowd. A number of key figures from US politics were in attendance as well including some of Obama's biggest critics. Truly in times like these political and ideological differences take the backseat.
Everyone else might have been thoroughly engrossed in the ensuing drama; however gamblers had their own issues at hand to deal with. At the Seminole Hard Rock Casino poker players were kept busy chasing after the bad beat jackpot which was up for grabs. As one of the casinos regular puts it, "We have been here since 5 in the evening. I and all my friends have been after the bad beat. We had no idea that the President was delivering a speech but we didn't have time to listen to speeches either."
Many gamblers across the United States spend their Wednesday evenings at casinos religiously and many spend all of them gambling. In many cases instances of excessive gambling addictions have been noticed as well. However, most of the gamblers who missed the unexpectedly timed speech were not bothered much as they would have preferred their sport anyway.