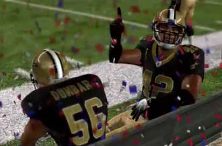 In the build up to the Wildcard Playoffs, the odds given for Seattle Seahawks to win the Super Bowl 2011 were set at an astronomical 100/1. This would mean that a wager of $100 could potentially win you $10,000 if they manage to reach the pinnacle of NFL. In short, absolutely no one at all expected them to win at the biggest stage in American Football, but then nobody expected them to get through and eliminate the New Orleans Saints, the reigning Super Bowl champions either.
However the tendency of sports to favour the underdogs came to the forefront once again as the Seahawks stood victorious in their battle with the Saints, a result that sent shockwaves through both the sports and sports gambling worlds. The Seahawks' 41-36 victory is one of the biggest upsets ever in NFL playoffs history.
The Saints were the firm favourites coming into this matchup with 10.5-point odds against the 7-9 for Seahawks. Never had a team with a losing record made it to the playoffs before Seattle. As the underdogs in the last 6 games that they played, Seahawks was at 1-5 ATS. They were 6-19-1 ATS vs. a team which came into the game with a winning record. They, however had other plans than to let the proceedings go on as expected and defied all odds in their victory.
The Bookmakers were quite happy after the result as over 60% of the betting on a Seattle spread. Now all eyes are on them to make it to the Super Bowl, which could be an especially big day for those farsighted (or lucky) few who put their money on the Seahawks who play Chicago or Atlanta next week.